I should start writing this obituary very honestly here- I have never been a great fan of Yash Chopra school of movie making. Not that I am against it or I do not watch them, in fact I have watched all his films except Faasle and Nakhuda, but my take home has been minimal. However, some of his works have spellbound me alright; Deewar, Doosra Aadmi and Silsila were all top class works and enlightened me.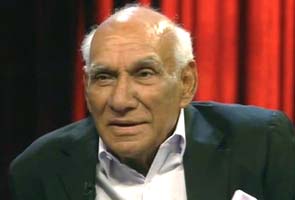 But one thing I admired really about the showman was his sense of music in his films. To give proper recognition to a phenomenal talent like Khayyam, to introduce Harivansh Rai Bachchan to write in movies, to resurrect Madan Mohan's music after three decades of the composer's demise or to team up with classical exponents like Shivkumar Sharma and Hariprasad Chaurasia- all proved the filmmaker's natural flair for good music. We will always be indebted to Chopra sahib for those beautiful musicals he gave.
And above all those musical associations we mentioned above, the most prominent was Yash Chopra's collaboration with the master poet Sahir Ludhianvi. Sahir sahib was not a regular bulk volume poet in the industry, he was very selective and never compromised in his works. That is why, he had very few solid associations in films but all of them were very strong and long. Sahir's associations with Yash Chopra can be traced back to the director's early days when he used to work under his elder brother B R Chopra's productions. Sahir was a regular lyricist in Chopra camp and gave eternal work in Dhool Ka Phool(1959), Gumraah(1963), Waqt(1965) and Humraaz(1967).
In 1973, when Yash Chopra decided to start his own production house, he selected Sahir for the first venture- Daag. A triangular love story of the then superstar Rajesh Khanna, Sharmila Tagore and Rakhee- Daag had a bold concept of justifying bigamy. The music was an essential importance just like other ventures of Kaka those years. With Laxmikant Pyarelal as the choice, quite odd for Yash Chopra as his earlier and later ventures never featured this duo again as composers, Sahir wrote a Ghazal masterpiece still considered to be one of the best in Hindi movies' romantic poems:
mere dil mein aaj kya hai tu kahe to main bata doon
teri zulf phir sawaroon teri maang phir saja doon.
Mujhe devta banakar teri chahton ne pooja
Mera pyar keh raha hai main tujhe khuda bana doon.
Koi dhundne bhi aaye to humein na dhund paaye
Tu mujhe kahin chhupa de main tujhe kahi chhupa doon.
Meri baazuon mein aakar tera dard chain paaye
Teri gesuon mein chhipkar main jahan ke gham bhula doon.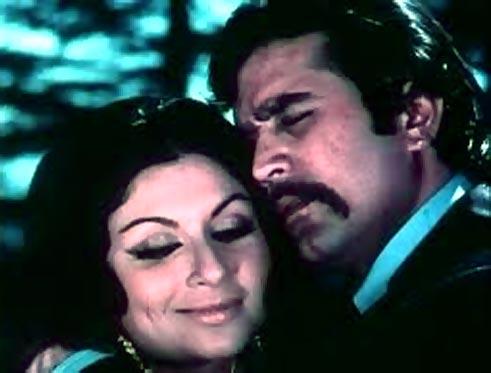 Sahir's career in Hindi movies can be distributed in three distincet phases- 1950s for hard hitting and philosophical poetries, 1960s for soft, romantic poetries with Ghazal predominance and 1970s for youthful and simpler verses. The above Ghazal, although following ghazalish trend in poetry, was given a rhythmic, filmy tune treatment making it more comprehendable to the common people.
The same year . Yash Chopra directed a movie called Joshila outside his production house for

Gulshan Rai. Rahul Dev Burman was chosen as the music director and Sahir sahib as the lyricist. Post his rift with the Papa Burman way back in 1957, Sahir had never worked with any of the Burmans in the last 16 years. That also made him out of Navketan banners of which he was once the lead lyricist. It was only in Hum Dono(1961), when he had made a small re-association with the banner, as the music direction was given to Jaidev who did not have any rift with Sahir unlike S D Burman. But then, once S D Burman recovered his health again and came to Navketan in 1963, both Jaidev and Sahir were out. Sahir teamed up with the Junior Burman in 1973 with 2 movies- Aa gale lag ja and Joshila. Speaking of Joshila, a soulful, sad song had to be picturized on Dev Anand inside the jail and Sahir Ludhianvi in his usual flair, wrote another poetic masterpiece:
Kiska raasta dekhe ae dil ae saudai, milon hai khamoshi barson hai tanhayi
Bhuli duniya tujhe bhi mujhe bhi , phir kyun aankh bhar aayi.
Koi bhi saya nahi raahhon mein koi bhi aayega na baahon mein
Tere liye mere liye koi nahi ronewala
Jhutha bhi nata nahi chahon mein, tuhi kyun dooba rae aahon mein
Koi kisi sang mare aesa nahi honewala
Koi nahi jo yun hi jahan mein baatein peer parayi.

Sahir Ludhianvi, Yash chopra, Dev Anand, R D Burman and Kishore Kumar during the music session of Joshila

The song created a sort of aloof and isolated feel of a wretch which only the master poet could create. It reminded me of his more serious poetic days when he wrote
" Kaun rota hai kisi aur ke khatir ae dost/ Sab ko aapni hi kisi baat pe rona aaya".
Maximum credit should be given to Yash Chopra here, who picturized the song so well on a Hyper Hamming Dev Anand of early 70s.
Deewar in 1975 was a revolution. It formally ended the musical romantic era of Rajesh Khanna forever, making space to the Angry Youngman days. Quite unusual, isnt it, to have come from a romantic filmmaker like Yash Chopra? But, Deewar was perhaps one of those very few movies where the angry young man did have a solid storyline and script to prove his acting skills. I loved Deewar. Everything it had to offer, the script, the dialogues, the acting- well, well; this was 70s at its best! Music was secondary. Angry Young Man was not in the habit of singing by then, and hence to give something substantial in poetry was difficult for Sahir sahab as the music was basically the filler in this movie. But, wait, can you ever stop Sahir from creating poetry of substance? Here you go:
Maine tujhe maanga tujhe paya hai, tune mujhe maanga mujhe paya hai
Aage humein jo bhi mile ya na mile, geela nahi.
Dhoop ghani hi nahi chhaon bhari bhi hoti hai raahon mein
Gham ho ke khushiyan ho sabhi to humein leni hai baahon mein
Dukhi ho ke jeenewale kya yeh tujhe pata nahi.
This song has always appealed me with its simple yet powerful lyrics and serene composition.
Now, the ultimate punch came a year later. Recreating his earlier work and tailor-making it for the film, Sahir Ludhianvi in his third film with composer Khayyam(first was Phir Subah Hogi in 1958, second was Shagun in 1964), created a verse for which he is still best remembered for. Romance oozed out, created a niche for Yash Chopra which later became a cliché for his films… Kabhi Kabhie is the way we look out at Yash Chopra's movies today. Snow laden path, rows of pines standing, the hero wearing a high neck sweater and "breath vapour" coming out of the mouth while singing- signed by Yash Chopra.
Kabhi kabhi mere dil mein khayal aata hai
Ke jaise tujhko banaya gaya hai mere liye
Tu abse pehle sitaron mein bas rahi thi kahi
Tujhe zameen pe bulaya gaya hai mere liye
But my personal favourite from Kabhi Kabhie remains another eternal verse from Sahir:
Main pal do pal ka shair hoon, pal do pal meri jawani hai
Pal do pal meri hasti hai, pal do pal meri kahani hai.
Kal aur aayenge naghmon ki khilti kaliyan chunnewalein
Mujhse behetar kehnewale tujhse behetar sunnewalein
Kal koi mujhko yaad kare, kyun koi mujhko yaad kare
Masroof zamana mere liye kyun waqt apna barbaad kare.
What marvellous thoughts from a poet about his future! Sahir sahib was definitely not a "pal do pal ka shair" but a "har ek pal ka shair"- the other variation of the same poetry from the same movie.

Kabhi Kabhie was undoubtedly a poetry lover's delight! Even a youthful and juvenile number- Tere chehre se nazar nahi hathti- had sparkles of genius called Sahir Ludhianvi.
Sahir continued to be the major lyricist of Yash Chopra throughout the 70s. When Trishul was released in 1978, Sahir came out with a bag of youthful lyrics like Jaaneman tum kamal karti ho, Kishuki kishuki kam kam, Aapki mehki hui etc. But, the winner of the day was a super ensemble number- Mohabbat bade kaam ki cheez hai- composed by Khayyam and sung by Lata Mangeshkar, Kishore Kumar and Yesudas; where the first two eulogize love and the last rejects.

It was like vintage Sahir coming back in form- when he praises, he takes it to the seventh heaven and when he despises, he digs the hell out of it.
With Sahir Ludhianvi's sudden demise in 1980, Yash Chopra shifted to other lyricists in the 80s and 90s. But before leaving for the heavenly abode, Sahir had left another gem for Yash Chopra in his last released Yash Raj film Kala Patthar(1979) before his death:
Ek raasta hai zindagi jot ham gaye to kuchh nahi
Yeh qadam kisi mukam par jo jam gaye to kuchh nahi.